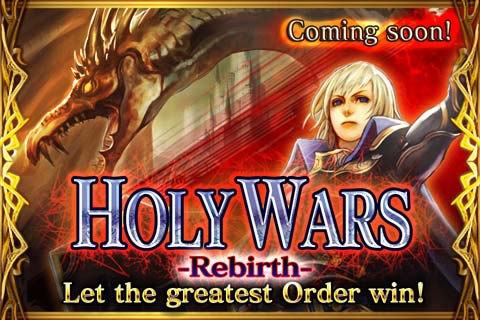 The "Holy Wars" is an event where orders and their members battle other orders for the chance of being named the best order in the game!
Information
Edit
Holy Wars -Rebirth- will be scheduled on 12/13 - 12/16 (ET)
Special Rules
Edit
During Holy Wars event preparation periods, if you log in at least once a day, you can get 1 Holy Powder (personal)!

Holy wars preparation Period (ET)


Dec. 7th, 2012 - Dec. 13th, 2012
Ad Hoc Order!
Edit
If you don't beling to an Order by the time te Holy Wars event starts, you'll be added to an Ad Hoc Order automatically. (This is limited to users who meet the requirements to join Ad Hoc Orders.)
Ad Hoc Orders
Edit
Ad Hoc Orders are formed automatically during Holy Wars event periods.
These are formed with users who aren't in Orders.

Users under LVL 20 can't join Ad Hoc Orders.

Only users who registered their devices can join Ad Hoc Orders.
Even if you are invited to a regular Order, an Ad Hoc Order will form first.
Once a Holy War event starts, you won't be able to invite others to your Order.

If you have an Order you want to join, make sure to do so before Holy Wars starts!

Ad Hoc Orders disband when Holy Wars events end.
In Ad Hoc Orders there are no Order Leaders or Vice-Leaders. Leaders are assigned automatically to users in the order that they join the Order.
1: ATK Leader
2: DEF Leader
3 onward: Regular Member (not a Leader)
Each Ad Hoc Order has a maximum of 25 members.
In Ad Hoc Orders, You Can:
Edit
Declare war
Donate
Build Walls

Rupies donated or Walls built do not carry over into other Orders.
Ad Hoc Order names are created automatically and can't be changed.
Please understand that Ad Hoc Order specs may change without prior notice.
Gain Advantages with Cards!
Edit
Cards that will help you bring down the enemy wall!
Cards that will increase the obtained Holy Points!
Among the rewards
Edit
Ad blocker interference detected!
Wikia is a free-to-use site that makes money from advertising. We have a modified experience for viewers using ad blockers

Wikia is not accessible if you've made further modifications. Remove the custom ad blocker rule(s) and the page will load as expected.