Zirnitra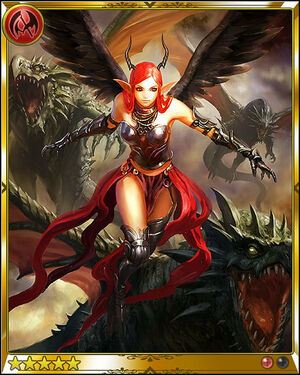 Faction: Demons
Rarity: S Rare
Attack: 1660
Max Attack: 4150
Defense: 1390
Max Defense: 3480
Special Ability: Dragonica Calling
Effect: Big boost to demons ATK/DEF
Power Cost: 10
Quote: Come, beloved dragons! The time has come to loose you upon the world! You shall reign over all creatures and teach them the absolute power of the dragon!
Market Price: 100
[Dragon War Princess] Zirnitra
Faction: Demons
Rarity: SS Rare
Attack: 3135
Max Attack: 7630
Defense: 2628
Max Defense: 6396
Special Ability: Dragonica Calling
Effect: Big boost to demons ATK/DEF
Power Cost: 10
Quote: Soar, proud dragons! None in this world can impede the beat of your wings. Lay bare the almighty power that burns within you!
Market Price: 100
Ad blocker interference detected!
Wikia is a free-to-use site that makes money from advertising. We have a modified experience for viewers using ad blockers

Wikia is not accessible if you've made further modifications. Remove the custom ad blocker rule(s) and the page will load as expected.